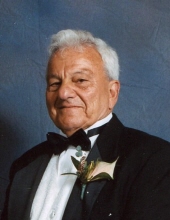 August Joseph Pace, "Gus" age 89 of Bethel, Ohio, passed away April 13, 2017 at his home in Bethel, Ohio surrounded by family. He retired from the Cincinnati Post and then the Enquirer as transportation manager with 45 years of service. He then went on to drive a school bus for the Western Brown School District until he retired with 17 years of service. He proudly served his country in the United States Navy at the end of WWII.
Gus Pace was born April 5, 1928 in Cincinnati, Ohio, the son of the late Michael Pace and Madelyn (Tedesco) Pace. He was also preceded in death by his wife of 27 years, Wilma Pauline (nee Neal) Pace and his sister, Mary Ann Sepate and sister, Dolores Pace.
Gus is survived by his 3 children, Sherry (Jim) Kinzie of Georgetown, Ohio, Michael (Stephanie) Pace of Bethel, Ohio and Donna Loadman (Danny) of Bethel, Ohio. Also 8 grandchildren, Brian (Amy) Hanlon, Josh (Brittany) Livingston, Brandy Kinzie, Becky Cochran, Mitchell Pace, Tyler Pace, Katie Cochran and Clay Loadman, great-grandchildren, Savannah Livingston, Kendal Hanlon, Ryan Collins, Harley Livingston, Boston Hanlon, Ava Loadman and Ryder Durbin. Also survived by brother-in-law Don Sepate and nephew Donnie (Jennifer) Sepate.
A visitation will be held Monday, April 17, 2017 from 5:00 PM until 8:00 PM at E.C. Nurre Funeral Home, 315 W. Plane Street, Bethel, Ohio, with funeral service Tuesday, April 18, 2017 at 11:00 AM at the funeral home.  Burial will follow at the Neal Cemetery in Bethel.
Memorial contributions may be made to Stein Hospice, 100 Liming Farm Road, Mt. Orab, Ohio 45154.
www.ecnurre.com