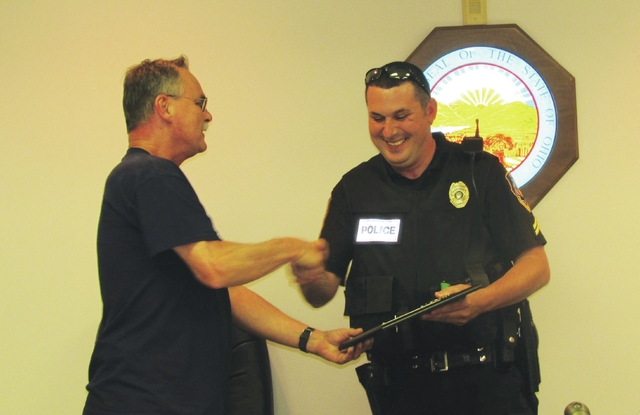 RIPLEY — Corporal Joe Barnett still can't believe it to this day.
At the Brown County Fair, Barnett was honored as the 2015 Brown County EMS Person of the Year, an award honoring the best first responders in the county. Barnett, who works in the Ripley Police Department, said he was floored and honored that the county would recognize him and his small department.
"I was just baffled," Barnett said in a phone interview. "I didn't know what to say or what to do. I wasn't expecting it, it caught me by surprise. I'm not big on talking about myself, you're just doing a job. Just because people vote for you, it's different. I'm still a little stunned because Ripley's finally recognized because we do what every law enforcement does, we just have less manpower.
"I was just really excited and stunned, still stunned and it's been a couple of weeks."
To celebrate his award, Barnett was honored at Ripley's October 13 Village Council meeting, their first since the end of the Brown County Fair. He was presented with a plaque by Ripley Mayor Tom Leonard and thanked for his hard work.
"What I have here is the police officer of the year, first responders nominee (plaque) for Brown County. He did a little bit better than that. He won the award," Leonard said proudly.
Barnett was one of two officers who responded to the scene on the night of July 18, 2015, as torrential downpours caused Red Oak Creek along Ripley Road to flood, causing devastation that hadn't been scene before in the area. Three people died in the flood, but Barnett was able to save a young girl who was hanging on to the side of her home, desperately holding on to not be swept away by the rising waters.
"It was definitely an eye opener," Barnett said of that night. He said it's possible that his work saving lives that night helped earn him the award.
Also at the village council meeting, Ripley Administrator Pete Renshaw updated council on a number of issues.
Renshaw said that he's received the most reports of discolored drinking water are happening on Thursday morning because the village back washes the filters on Wednesday evening, which stirs up minerals in the pipes.
"It just proves to me that I need to flush everything eventually," Renshaw said.
Both councilman Charles Poole and Leonard said that they have each experienced water discoloration issues in recent days.
Council then granted Renshaw authorization to flush the lines when an issue arises.
Renshaw next said that the U.S. Department of Agricultural loan committee approved a new loan for a business. Both councilwoman and committee member Linda South and Renshaw said they couldn't reveal more information as the loan was still pending.
The USDA Loan Fund currently has two loans out, one to Ripley Gourmet Tortillas and another to the Ripley Boat Club.
Next, Renshaw updated council on a pair of fresh water wells located near the Ripley-Union-Lewis-Huntington High School that are scheduled to be drilled both went open for bid. To Renshaw's delight, the village's engineer estimated the project would cost upwards of $119,000, but the village received bids for $116,900 and $110,500.
"The lower price is by a very reputable firm called Moody's of Dayton and they've been in business for 50 or 60 years. They've worked here before and they're currently working in Aberdeen now for the transition from Aberdeen water to Brown County Rural Water. They're a very reputable company and I recommend council approve them."
Council later approved the bid from Moody's.
Renshaw said that the village's state forester, Tim Wilson, has identified five maple trees near the cemetery that are potential hazards, and they're rotting away from the inside. He recommended that they be removed and have a new set of trees replanted.
Wilson also recommended that a tree across from Cohearts Riverhouse needed pruning. It was previously hit by lightning.
Council then held a discussion about potentially having a business director pole placed on the corner of Second Street and Main St. Renshaw said he would look more into it.
Renshaw updated council on the construction along Easton Alley, and that Duke Energy has placed metal plates in the middle of the road as they work on a gas main.
Renshaw then discussed how the village failed to acquire a state EMT grant, which reimburses cities with major damage. The village's flooding damaged failed to rise to the level necessary.
"Our repair costs had to be greater than one-half of one percent of our budget," Renshaw said. "It was not, we missed it by about $12,000. We won't get any help there, but we tried."
Renshaw revealed that RULH has only had one bidder for their pavilion project and the bid came in way over the school district's estimation, so they're putting that project on hold for the moment.
Council agreed next to hold their next village council meeting on Monday, October 26 in the village administration building. The meeting will be followed by a town hall meeting hosted by the Brown County Emergency Management Agency, to help meet with people who have unmet needs following last July's flooding.
Council agreed to pay the extra $152,092.49 owed to AEP due to AEP's billing issue over the final three months of 2015, which would make it easier for financial auditing concerns.
Lastly, council went into executive session to discuss personnel. No action was taken.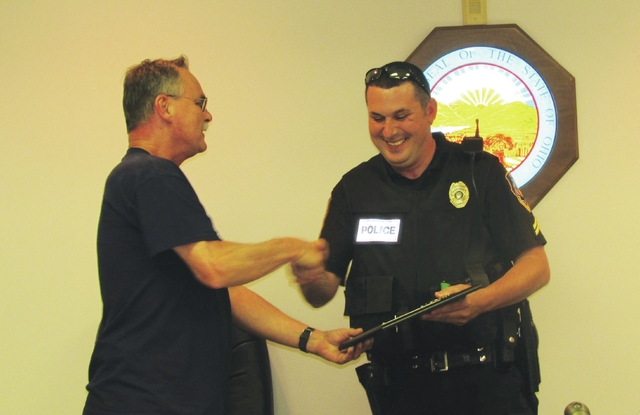 Ripley Mayor Tom Leonard honors Corporal Joe Barnett of the Ripley Police Department for being named the best first responder in Brown County.