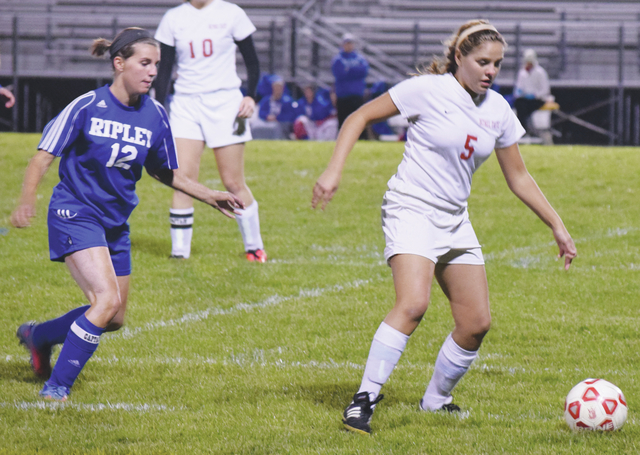 BETHEL – Ripley's boys soccer team drew a first-round bye in their sectional bracket, but the girls squad was in action Monday, October 19 at Bethel-Tate High School.
A defensive struggle throughout most of the first half, the Lady Jays struck suddenly with six minutes left in the half. Bailey Adams tallied the team's first goal with a strong shot past the keeper. Four minutes later, Alexandra Carrizalez scored off a rebound to help lead Ripley to a 2-0 playoff victory.
Ripley head coach Marty Adams said his team played well in the first half even before tallying the two goals, but the sudden offense forced a bit of a change in his halftime speech.
"I thought we were poised with the ball in the first half," Adams said. "I was really happy and thinking about what I was going to say at halftime with six minutes to go. 'Just keep playing and we'll pop one in' and then they pop one in with about six minutes to go. Then we got another one with about two minutes to go."
Adams also noted the team did not really change much on offense to get the goals, either.
"We just kept playing the same way and putting the ball in, working the ball well," Adams said. "I think we've played about as well as we'd played all year together in that first half and I knew we'd put one in sooner or later. That was big for us going into the half to get two in the last six."
Bethel head coach Ron Shook said his team's defense played well, but they made mistakes that caught up to them eventually.
"I just challenged them to keep them from scoring," Ron Shook said. "A lot of times that's what they need to hear, they just need a challenge. They made a couple of mental mistakes, a couple of dives without cover, not tracking runners, and that led to their goals."
The Lady Jays played strong defense in the second half, with the Lady Tigers' best shot at a goal coming on a penalty kick with less than five minutes left in the game. The ball was shot right into the arms of goalkeeper Suzanne Dragoo, who made the save to preserve the shutout. The Lady Tigers had other chances to score, but were unable to convert any of them into points, something Shook said has plagued his team all year long.
"That's our typical offensive night," Ron Shook said. "We put up 25-30 shots and none of them go in. That's been happening to us all year. We lost our top two scorers with knee injuries before the season even started and never got them back."
Adams said his defense played as a team, something they had been doing all season long.
"They worked well," Adams said. "All year they've been working well, we've got nine wins and seven shutouts. When they're working well all they give us a chance, all we have to do is stick one in here and there."
The communication was key for the Lady Jays, who lost sophomore Madyson Blackburn for a brief time in the second half. She suffered a head injury when one of the Bethel defenders attempted to clear a ball that ended up hitting her in the side of the head/neck. She would later return to the game.
"I heard them communicate more than we ever have," Adams said. "I only saw one or two communication errors on that back line. The midfielders were dropping back and helping and the goalkeeper did a great job directing her defensive line. They did a tremendous job, especially since the last 10-15 minutes they were pressuring us pretty good.
Ripley now turns their attention to Cincinnati Country Day, who lost just two games on the season. The Indians lost their final game of the regular season to Badin 2-1 in addition to a 3-1 loss at the hands of rival Summit Country Day, who currently sit at 17-0 this season.
"The good news is we won, the bad news is we get Cincinnati Country Day, the number two seed," Adams said. "They're tremendous. They ball possess, they're big and fast. They're great. We're glad we won this but we have a pretty big test ahead."
The match-up between the two squads is expected to begin at 5 p.m. Thursday, October 22.