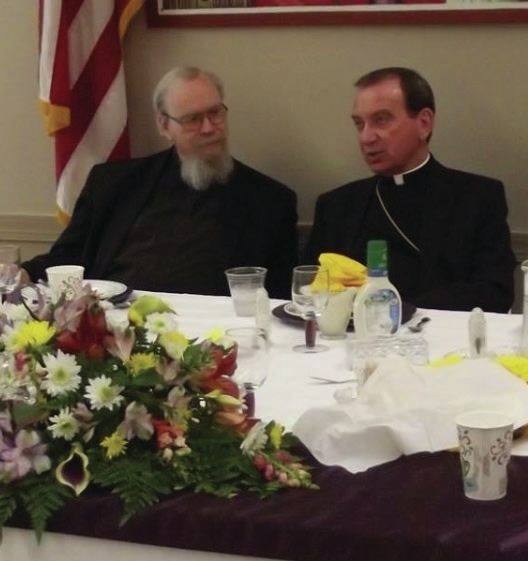 Ripley's St. Michael's Church welcomed one of the area's top Catholic officials to celebrate their 175th anniversary.
Archbishop of Cincinnati Dennis Schnurr was the special guest at the Sunday, Oct. 10 Mass at St. Michael's Church. Schnurr gave a sermon to the parishioners and joined them for a luncheon after mass, where he had the chance to speak with parishioners one-on-one.
"As a native of a small town in Iowa, I felt very much at home during my second trip to Ripley," Schnurr said in a statement. "The parishioners were all extremely friendly and welcoming. I also enjoyed learning more about Ripley's history, especially its important role in the Underground Railroad."
St. Michael's has been celebrating the 175th anniversary of its creation for most of the year, with the celebrations culminating in Schnurr's visit. According to St. Michael's website, the church was created in 1840 after seven years with Catholic Ripley families holding mass in each other's homes.
In 1842, Cincinnati Archbishop John Baptist Purcell dedicated the church with the name of St. John the Baptist, but it was later changed to St. Michael's.
"(Schnurr's sermon) talked about the history and how parishes are where people's lives are centered, and the contribution of those who have come before us, and our call and obligation to those who will follow after us," St. Michael's Church Pastor, The Rev. Dohrman W. Byers said. "That's where most people have their connection with Christ, through their experiences in the parish."
Father Byers said the theme of the day was celebrating the church. "You don't turn 175 every day," Father Byers said.
Schnurr's visit to Ripley isn't the only chance for local parishioners to meet folks from outside the area. Father Byers said that the church annually brings in Catholics from around the world, giving the locals a chance to meet new people and broaden their world view.
"Every year we have an opp to touch base with someone from elsewhere in the world," Father Byers said. "Every year we have someone who comes to talk about missions and they frequently come from different parts of the world."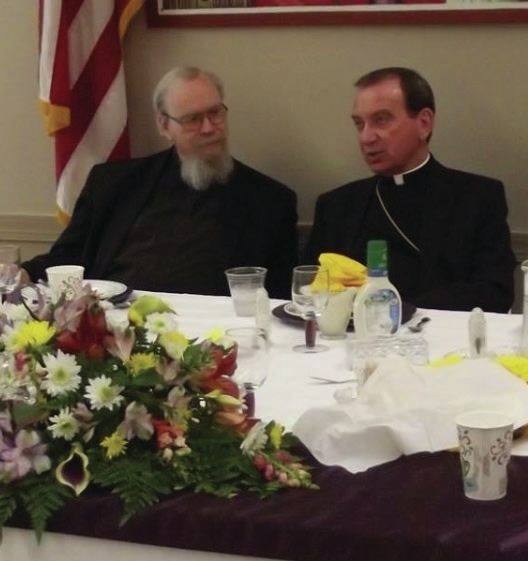 Cincinnati Archbishop Dennis Schnurr, right, visited St. Michael's Church and spoke with parishioners and Reverend Dohrman W. Byers, Pastor of St. Michael's Church.