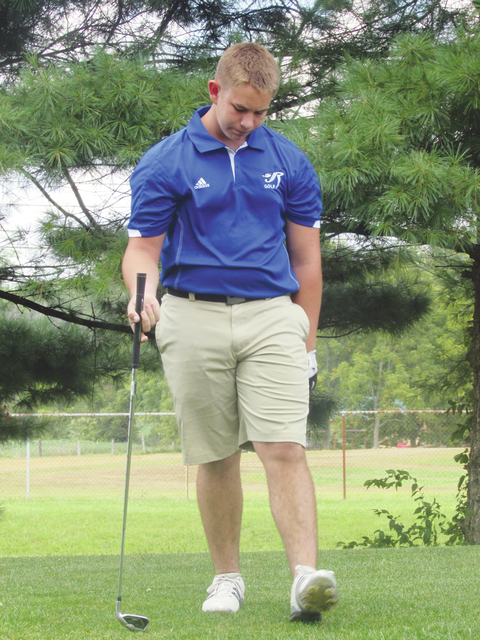 By Garth Shanklin
gshanklin@civitasmedia.com
Ripley's golf team entered three individuals (Dylan Phillips, Scottie Ott, and Brian Dunn) into the Division III Southwest Ohio Sectional Golf Tournament on September 29 at Walden Ponds Golf Course.
Four teams and four individual qualifiers not on the qualifying teams advanced to play in the Division III Southwest Ohio District Golf Tournament, held on Thursday, October 8, at Weatherwax Golf Course.
Cincinnati Country Day (343), Cincinnati Christian (351), Southeastern (352) and Seven Hills (356) advanced as teams to the district tournament. Georgetown earned eighth place (425).
Under rainy and soggy conditions all day, Dylan Phillips carded a 20-over par 92 with Brian Dunn tallying a 94. Scottie Ott did not allow the wet conditions to bother him as he produced an 83 (42-41) and earned sixth place out of sixty-two golfers in the tournament.
Ott began on the 10th hole and was even par after his first seven holes. He stumbled with two sevens on hole numbers 17 and 18 and finished his first nine holes with a 41. As he started his second nine holes, he bogeyed his next two holes to climb to seven over par on the day, but he bounced back impressively with two straight birdies to move back down to five over par for the after thirteen holes.
Through a steady rain during the next two holes, Ott stumbled again with a bogey and a double bogey and stood at eight over after fifteen holes. Due to heavy rains, play was then suspended for an hour, which allowed the three Ripley individuals to determine their chances toward advancing to the next round. Phillips had two holes remaining, Ott three and Dunn seven when play was suspended.
Phillips parred and then double-bogeyed his last two holes to shoot a 92. Ott bogeyed his three remaining holes and shot an 83, and Dunn was six over par on his remaining seven holes and shot a 94, respectively. Ott's 83 tied for the lowest of the four individuals who moved on to Districts.
Head coach Michael Scanlan praised his team's effort, especially given the tough conditions.
"I am very proud of all three of them for the rounds they produced under the wet conditions," Scanlan said. "It is great to have at least one qualify, but we nearly had all three of them qualify. We head back to the district tournament for the second year in a row since Dylan advanced last year. Scottie played steadily all day, and put together a very good round. He could have been in the mid-70s had he not made some minor mistakes. He is really playing his best golf at the right time of year, and we are looking forward to being more than simply competitive at the district level."
Next week, Ott will tee it up in the Division III Southwest Ohio District Golf Tournament at Weatherwax in Middletown, Ohio. A total of 48 golfers (eight teams and eight individuals) will be competing for spots in the Div. III State Golf Tournament at the Scarlett Course at Ohio State University on October 16 and 17. Two teams and two individuals not on the two qualifying teams will advance.
(Ripley head coach Michael Scanlan contributed to this story.)
Reach Garth Shanklin at 937-378-6161 or gshanklin@civitasmedia.com.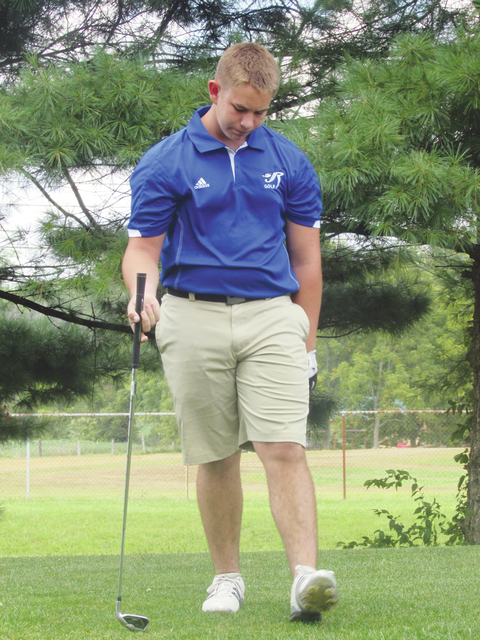 Ripley's Scottie Ott carded an 83 to qualify for Division III's district golf tournament at Weatherwax Golf Course.